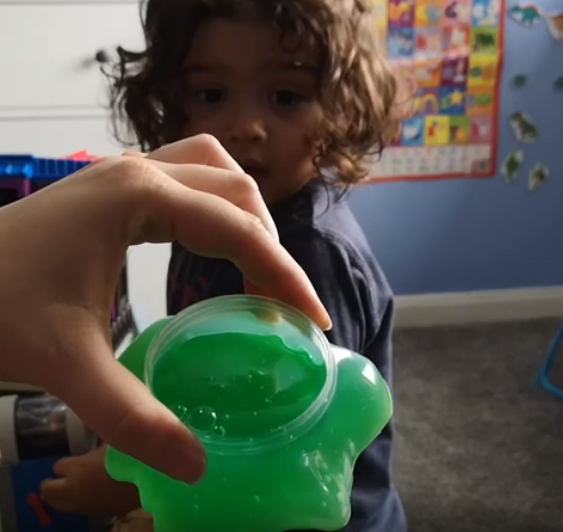 How much fun is it to watch how a toddler discovers slime? A fun and cheap way to entertain on a rainy day in or any day really, because when is slime not fun!
A great way to keep them entertained is to buy them some slime. You can pick this for a few pounds in lots of different shops, I got mine from The Works and even Amazon has this great Rainbow Galaxy Goo Slime which can be at your front door tomorrow (if you're a Prime member of course!).
As I discovered, slime is more snot-like than gooey! It's a good idea to do this fun little exploration somewhere which is NOT carpeted. Luckily I opted for laminate flooring in our downstairs, as I wanted an easy to clean but also child-friendly flooring option. They can make as much mess as they want and it's hassle-free to clean up. Of course, if you don't have this option, I would suggest keeping a roll of dust sheet handy at all times, it's a great way to minimize any damage to your carpets. You simply lay the sheet down on the floor and any kind of a mess, be it slime or paint, can easily be collected and disposed of after. It's not very expensive and can even be reused a few times, which is a great plus.
Be prepared to wash all the toys who had to endure the slime dip! I find getting a small bucket after, filling it with water and a bit of soap, is another fantastic way to entertain little hands. And as an added plus, he cleaned his own toys, so also learning how to help around the house and clean up after himself. Water play is always highly recommended, something which delights and entertains at any age really. The one thing I dislike about it, is the drying of the toys after, trying to get into every nook and cranny is a right pain! I may sometimes get the hair dryer, which I don't use often so Kal-El is always very intrigued when I use it.
Happy sliming!
---
Subscribe to Kal-El's Toys & Games Channel!
Check out DIY Play Sand & Messy Play post.