School breaks can be quite tough for working parents (even for the stay at home mums!) when you have a toddler or little one full of energy who is used to a day filled a with activities. I've decided to do another list of ways to entertain, inspire and teach your kids during the school break.
Plan Ahead
Sometimes people tell me I'm pedantic for planning ahead, but it's rare that I'm caught off guard with a bored toddler. If you have a rough plan of what you're going to do on each day, it'll allow you time to prep anything that needs prepping.
Space Out Days Out
If you have, say 3 different places you will be taking your kids to, over a 2 week period, space it out so you have 3 days at home, etc.
Parks and Playgrounds
I've come across a few, not many, parents who don't take their kids to the park. This is a great outing for them. Not only do they get fresh air, but there are awesome playground toys for them to play on and they get some exercise. You can always stop for lunch on the grass and have a picnic.
Picnics
As I said above, a day out in the park can include a picnic. Picnic in your own garden or even just on the living room floor. When you do have a day out, pack a picnic instead of stopping in a cafe.
Forts
Build a fort! It's so much fun and a great way to get those creative juices flowing. Use sheets and blankets and turn a usually boring room into a new, fun adventure.
Chalk
Chalk is a good way for little fingers and minds to express their creativity. Chalkboards themselves can be quite inexpensive or you could get some chalkboard paint. Not very pricey and with 1 can you'll be able to turn loads of things into a chalkboard surface.
Tabletop (their little play tables with a chalkboard finish makes for a good drawing table)
Wall in their room (or part thereof)
Outside wall (try this on the back of your house)
Kitchen cupboard or fridge (also good for Mummy's reminders!)
Create a mobile chalkboard by painting a piece of wood.
You could always use the pavement for some chalk drawing and wash it off after.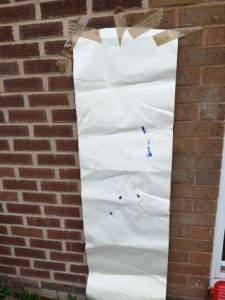 Paper Mache
Now making paper mache creations isn't necessarily an activity the very young ones will participate in, but they'll love playing with the mixture and then once you have finished making it, they'll enjoy painting it.
Paper Mache Recipe
A pinch of salt
Water
Flour
You can include painting it after as well!
Messy Play
Bring out the spaghetti hoops, flour, jelly, pudding, baked beans and even no edible items (for older not everything in their mouths stage) like shaving foam!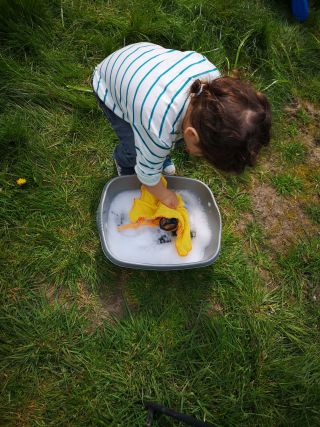 Water Play
A simple bucket of water with a few toys (containers that can help them learn about full/empty is really good) is a great way to keep them entertained! If you just don't have the space outside or it's too cold, pop them into the bath.
---
Check out some of our other videos and posts for ideas of how to keep the kids occupied during the school holidays!
Sticky Dinosaur Game for Your Toddler
Indoor Activities for Toddlers