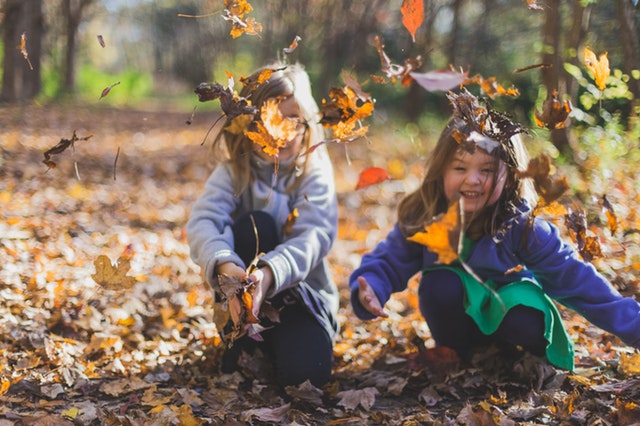 School holidays have started, it's winter and you have a very hyper toddler at home. They have so much more energy than you do and require constant stimulation, entertainment and attention. Read the following ideas you can do to try to keep them tantrum free and happy.
This isn't technically our first school holiday, as he's just finished at nursery and starting preschool for the first time in a couple of weeks. It is, in fact, the first time since he was one, that he's been at home for so long without him having chickenpox or us being away on holiday. And wow he requires constant, constant fun and games. I wish I had just a tiny bit of his energy levels. I don't think I remember a time, even when I was little, that I had this much energy! So I have tried to stick to a rough daily schedule of fun and games.
Breakfast – I try to get him to join in on all food and snack preparation, sometimes he will and sometimes he doesn't want to. He usually helps me a lot, always wanting to get involved in everything around the house.
Toys – after breakfast, we spend an hour or so playing with his favourite toys. these have been topped up this week with his christmas presents. So we play Superheroes. I have to be the villains, which consist of Romeo, Lunar Girl and all the dinosaurs. Sometimes the dinosaurs are friendly and I'm left just constantly being locked up in jail.
Play Sand – I bought a 12kg bag of play sand, anticipating I'd need some serious entertainment ideas. The day after boxing day I opened up the bag and used the little play table that we have. It has a bit of a ridge on the sides, not a lot, so admittedly not the most ideal table for play sand, but I improvised. So with a ground floor entirely of vinyl, this is entirely possible. If you have carpets, I'd strongly suggest finding a slightly different solution. Perhaps use a large tarp laid down below the table or even some dust sheets laid out. After about 20 minutes there was sand everywhere, all over the floor and even on the couches, but it was well worth all the sweeping and hoovering after as he had an incredible amount of fun.  It was a lot of work on my part as it required a lot of cleaning and I also had to pack it all away each day as we have two sneaky cats.
Play sand itself has many options for great play!
Roads and Hills – Bring the tiny cars, trucks and bikes, make roads and hills to ride over and through.
Dinosaur Attacks – A great playground for all the dinos to come out and play.
Dinosaur Bones – He was particularly pleased with this one. Not really understanding the concept of fossils, I buried all the plastic dinosaurs in the sand and gave Kal-El one of his paintbrushes and showed him how to gingerly dig them out. He thoroughly enjoyed the exercise, each dino find was a surprise and guessing from the bits sticking out, which one it was. We repeated this several times.
Volcanoes – We made a volcano and had a pretend eruption where everyone was fleeing the hot lava, lots of giggles and laughter.
Shapes – We used our shape cutters usually used on the play-doh, to make shapes and little creations.
Toy Cleaning – After being covered in sand, you can move right into water play by putting all the toys in a bucket with water and soap. Get them to wash their own toys, not only do they learn all about helping tidy up, but which kid doesn't love water play!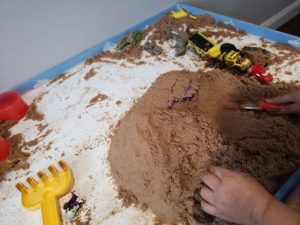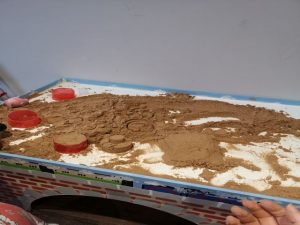 In total, including preparation and clean up time, the play sand lasted a few hours and took us to dinner time.
Play-Doh – As with the play sand, play-doh is lots of fun, you can make all sorts of interesting things. It's a good way for little hands to practice their fine motor skills, teach them shapes, counting, colours, etc. You could even have pretend play with play-doh, by making food and pretending to go shopping.
Drawing and Colouring – There will soon be a whole post dedicated to drawing and colouring, as there is just such a large variety of activities. A quick summary is colouring in and drawing. You could also bring out the paint, get an empty box and let them paint it. This is a good way to keep them entertained and highly stimulated throughout the afternoon.
Dancing – A good way to burn off excess energy is by dancing! Blast some music and dance like no one's watching! Kids love to dance and it's so great watching them mimic your moves. Also, a solid 50min of dancing before supper, bath and bed, will help tire them out.
Sensory Play – This isn't something we really do much anymore, not since he was teeny tiny and mostly because we just don't really get round to it. But today I took the last dregs of paint from his little paint bottles and put them in a sealable plastic bag and taped it to the window. I might possibly have enjoyed it more than him! It's a great sensory activity for them.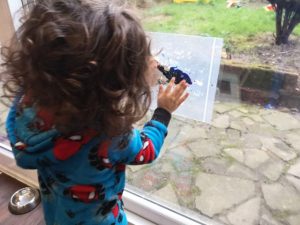 At this point, you should be about ready to start making supper. Always good to have little hands assist. I put him at the breakfast bar, give him his own chopping board, one of his plastic knives and let him try to chop up and help you prepare dinner. I sometimes give him a bowl of dry pasta and lots of little containers to play with. This usually gives me enough time to finish up the cooking.
At some point in the day, we will go out for a walk and/or bike ride. A trip to the shop for some milk and bread or just around the block.
As preschool nears, we are phasing out naps in the day, which sucks as I really miss the snuggles on the couch. But he needs to get used to his new routine I suppose.
I hope you've found this post helpful. Leave a comment with some other activities you use with your little ones!
---