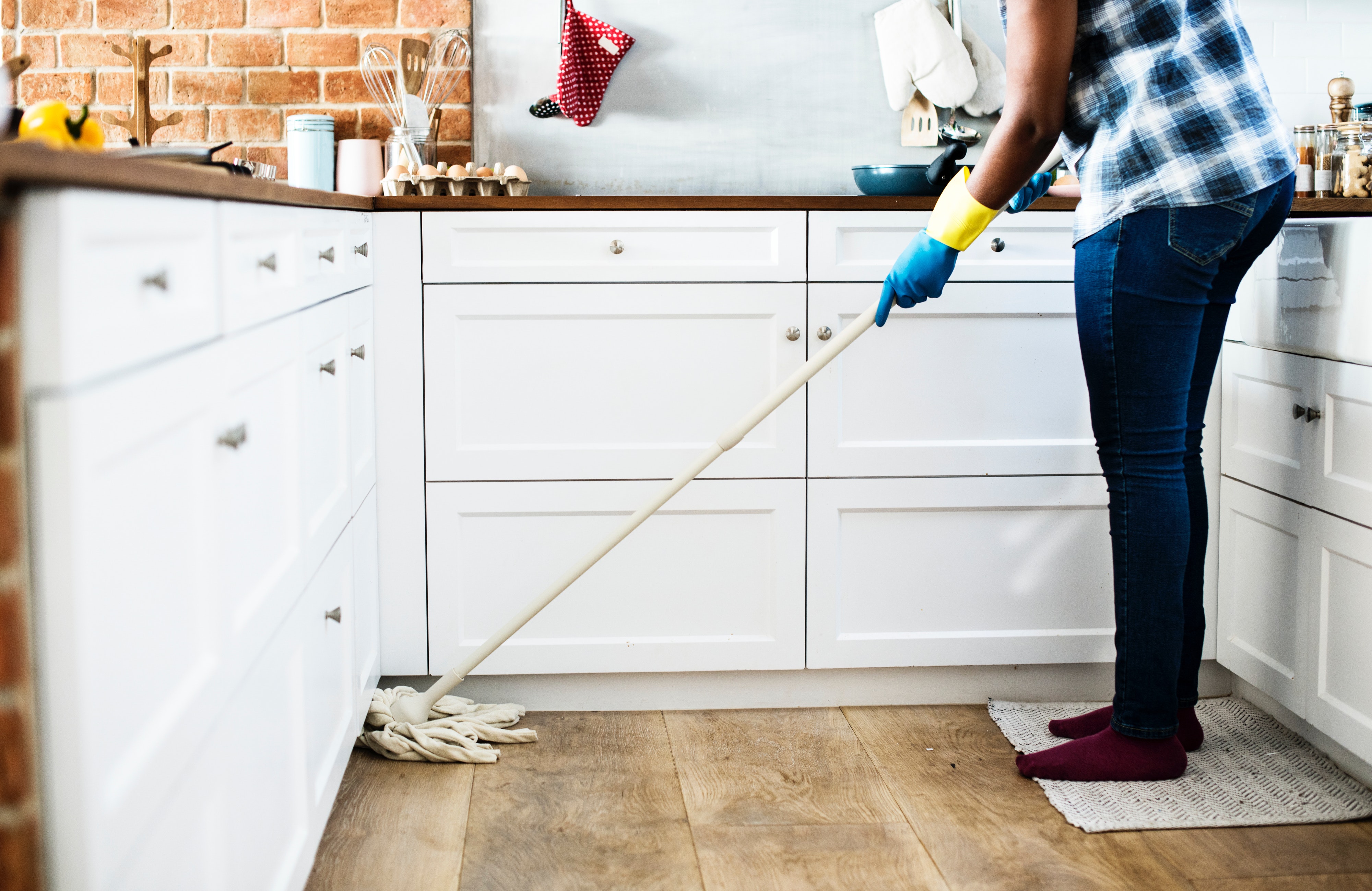 As a busy mummy, with lots to do and want to find as much time as possible to spend with your kids doing fun things like making fun new games, here are some tips to keeping on top of your household chores!
I only have one toddler at home, but even before he joined our little family, I struggled to stay on top of housework! I know that the previous generation was all about keeping a tidy home and making sure that the family was fed and making traditional Xmas cookies each year. I remember so clearly the smell of cleaning products every Saturday morning in my grandmothers' house, while she washed the carpets, every single week. Her house was spotless and people use to say you could literally eat off her kitchen floor. You probably could, it was tiled and she washed it twice a day. Her beds were always perfectly made first thing, I use to get really nervous because she always tutted me while she redid mine. You would never find a full, or semi-full laundry basket in her house and every single thing had a place. Her house was also full of nicknacks, all very tasteful, she does have really good taste. The decor in the house was lovely. There was a cabinet with lots of little trinkets made of glass which were collected from her trips to Greece and New York. Even the pillows on the couch were perfect and never moved or touched.
I loved spending weekends with her, I absolutely adored my grandmother. Looking back, I can honestly not say why. Her OCD made her pretty mean and the fact that you were always walking on eggshells not to dirty up the house, made for a rather unpleasant visit. My mother was the same as well as my aunts. It was like growing up in a collection of museums, where nothing can be touched or sat on! Also, these are people who are mind-numbingly boring. They have to be, who has the time for all that? This is why I've so forcefully adopted my own take on how a household should be run. Here are a few handy tips for you to make your life a little easier in the domestic department freeing up my time for more important things!
Shed preconceived notions of what your home should look like! – Someone actually had the audacity to tell me off once, because mine and my husbands' PCs were in the living room, and not in the spare room upstairs. Needless to s.ay she hasn't been to visit since. I use to be a gamer, not so much now since motherhood. I spent 60 hours a week playing and my husband likes to potter around on YouTube. Nothing better than the 2 of us each at our PCs, while the TV plays reruns of our favourite shows in the background, eating pizza and chatting about how my Druid is unravelling the maze in Sunken Temple.
And I decorate my house with Buffy action figures and maps of Westeros. It's your house, you live in it as you will.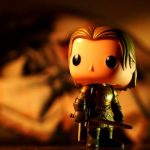 Laundry Baskets – So I've recently started keeping a laundry basket by the front door, much to my husbands annoyance (what would his mother think after all). Future home renovations will give us a utility room and additional living room where our garage is at the moment. But this is a long way aways, yet the washer and dryer are in the garage. Getting laundry done has become a right pain, even more so when it's in the middle of winter and you have to go outside to get to the garage and you have a little helpful toddler who wants to go with. I tend to keep a basket by the door, where I put Kal-El's clothes in, as he tends to get dirty downstairs a lot and each morning I grab a handful of clothes with me when I go downstairs, to fill it up. It's easier to take the dirty loads when they're right by the door, I tend to pop them in when I'm on my way out somewhere, or just doing the morning school run.
Equally so, I do the folding usually downstairs, while watching Netflix at night or in the day I'll go upstairs while Kal-El potters about in his room… of course then I do spend half my time stopping him from jumping on the clothes on the bed. I have forgone ironing. Unless it's a particular work shirt (luckily my husband wears a cotton t-shirt to work), or an evening shirt, I only get the iron out for the Kung Fu belt tags! As long as you get the clothes out of the dryer and folded or hung up, creases aren't really a problem.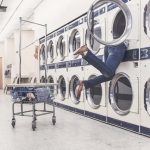 Dishes – Do your dishes right away! It's the best way to stay on top of them.  If you have a dishwasher, empty it right away after a wash, so that it's always ready to be stacked as you go. Best thing while cooking is to keep clearing up as you prepare and wait for the food. Not always easy, when you have little hands wanting to help you. Put your dishwasher on at night and unload it first thing, while you wait for the kettle to boil for your first cuppa!
Bonus Tip – Toddlers like to help, plop them next to the sink, with some water, a sponge and some soap and let them do the dishes to keep them busy. I let him pretend to wash his bottles and plastic containers makes for fantastic water play and free you up a little to finish supper.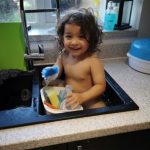 (of course sometimes just sitting with your feet in the sink isn't enough and you decide it's more fun to sit inside of it instead!)
Floors – Floors are a real struggle for me, with 2 cats who are always in and out via the cat flap, little paw prints are always littered around the house. Now I opted for laminate flooring when we started our renovations, thankfully, as it's a MUCH better option when you have kids. It's easier to clean up messes, but having to wash the floors can be tricky. I tend to do it before leaving the house (so much gets done as I leave!), that way it has time to dry before the hyperactive toddler who doesn't understand why he can't run around, gets back. I also use floor wipes during the day to get small areas, so that when it comes to the weekly clean it's not quite so much work and if need be, I can skip areas some weeks.
Robot Vacuum Cleaners – I've always wanted one, but unfortunately don't as of yet. They're obviously a great alternative to doing it yourself! You get the washers too and I saw some amazing window cleaning ones which I can't wait to use one day.
Vacuuming – Like I said before, 2 cats! I have to run the hoover every day. It's the bane of my days really. I sweep downstairs, sometimes just run the hoover instead, and quickly run it either every morning or if I'm out that day, just before bath time each evening. A bit more thorough on the weekend when I have a bit more time. The stairs get neglected the most, as it's very time-consuming. I recommend a handheld or stick vacuum as a 2nd vacuum which makes the hoovering of stairs and hard to reach corners even spiderwebs on the ceilings, a lot easier. And if you have one, it sure makes keeping the car clean easier too!
Anti Bacterial Wipes – Not the most Eco-friendly and one of the only things I use which isn't, but the convenience is just amazing. I use the floor wipes for the floors as they're bigger and the regular ones for the countertops, cupboards, appliances, etc. They're quick and easy to use, makes wiping down the counters each morning a much easier job!
Hob & Oven – We had to buy whole new appliances when we renovated and opted for a Siemens smart oven, which has its conveniences, but it's greatest feature is the self-cleaning option. You stick it on and for 3 hours it heats up tremendously, after which it just requires a wipe down of the ash that's left behind. Cleaning the hob is unfortunately not as easy. I use the wipes to wipe it down after each use. I find wiping it down after each use, slows down the build-up and need for regular thorough cleaning. Same goes for the areas surrounding the hob, which gets grease build up. Wipe it down quickly after each hob use.
Tidy Up – No matter how clean the house is, a messy house still gives the feel of a dirty house. I personally would rather have a life than a pristine house, but I do it for Kal-El's sake. He enjoys his toys much more if they're always packed away, ready for him to unpack and explore. So I force myself to constantly tidy up. Do this as you go is again, the easiest option, as it then doesn't require you to spend an hour each day tidying everything away at once. But it's easy to let it get out of control, where you find yourself literally walking behind your kids packing things away as soon as they drop it. I don't want that, I want him to enjoy playing at home. So I use an assortment of plastic containers and baskets for his toys, I like to keep them separate, so all vehicles in one, all action figures in another, all legos together, etc. This helps Kal-El to tidy up after himself too.
The adults in this house also tend to make a lot of mess. Keep jackets and jumpers on hooks, shoes in the shoe rack, keys in a designated area and have a MISC drawer. The MISC drawer or crap drawer as I like to call it, really helps with this. If you don't have a spare drawer, as I don't, be creative and use a nice looking box or container you can keep on the counter.
Don't Do It Alone – You're not the only one in the house. Get the kids involved. If you get them to help you now, teach them how to hoover or do the dishes or help with laundry, they'll soon be helping more than hindering (it's a bit of a chore for you now as they're only little and can't really do it on their own). Also, you want to make your kids self-sufficient so they become productive, happy and balanced adults.
Now, this shouldn't even have to be said in this day and age, but get your husband or wife to help you too. It's not 1942, there is no need for the mother to have to do everything. Let me know how that goes though, I'm curious to see if anyone else's in-laws think the same backwards, chauvinistic crap as mine do!
---
Download our handy Cleaning Rota – Craftymammatips – I have mine on my fridge!
Read more helpful tips!